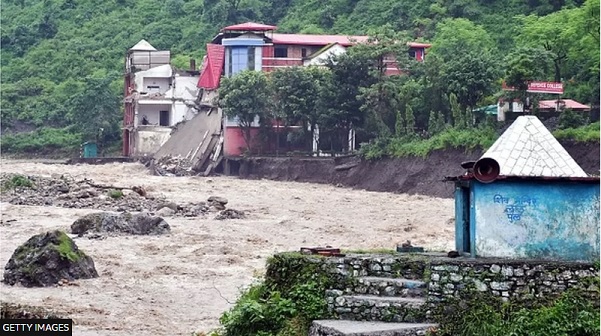 Torrential rains and unabated construction are frequently triggering disasters in India's Himalayan region.
But an unusual increase in rainfall is making the terrain even more dangerous.
Landslides and flash floods have already killed dozens in the area this month, burying homes and buildings. Parts of Nepal and Pakistan have also suffered damage.
A new study has found that mountains across the globe, including the Himalayas, are now seeing more rainfall at elevations where it has mostly snowed in the past.
The change has made the mountains more dangerous, scientists say, as increased temperatures not only bring rain but also accelerate melting of snow and ice. The rainwater also loosens the soil resulting in landslides, rockfalls, floods and debris-flows.
"Our findings provide several lines of evidence demonstrating a warming-induced amplification of rainfall extremes at high altitudes, specifically in snow-dominated regions of the Northern Hemisphere," says the study, published in June in the Nature journal.
The finding is consistent with a special report of the Intergovernmental Panel on Climate Change (IPCC) in 2019 which said that snowfall had decreased, at least in part because of higher temperatures, especially at lower elevations of mountain regions.
There are more instances of extreme precipitation events occurring now in the form of rainfall even at a high elevation and in all seasons, says Samuel Morin, executive director of the National Centre for Meteorological Research in France and one of the authors of the special IPCC report.
This is mainly because the zero-degree isotherm, the freezing level at which precipitation falls as snow, has moved to a higher elevation because of global warming
"As a result, these [mountain] regions are regarded as hotspots that are vulnerable to high risk of extreme rainfall events and related hazards of flooding, landslides and soil erosion," the study says.
This risk is higher for the Himalayan region compared with other mountainous regions like the Alps and the Rockies in the northern hemisphere, Mohamed Ombadi, the study's lead author, told the BBC.
"That's because there are additional warming-related processes [in the Himalayas] that change wind patterns and storm tracks, leading to an increase in the intensity of storms."
Mountains in the Himalayas, which span India, Bhutan Nepal and Pakistan, hardly have any weather stations, which often leads to a lack of accurate data on precipitation levels.
There are a few stations located in the lower elevations of the mountains but they do not show whether the precipitation recorded is rain or snowfall.
However, a weather station installed at the base camp of Mount Everest showed that 75% of the 245.5mm precipitation on the mountain between 1 June and 10 August this year had fallen as rain. The remaining was snow or a combination of rain and snow.
This is a huge jump from the 32% of rain recorded between June and September in 2022, 43% in 2021 and 41% in 2020.
"We believe the dominance of rain vs snow is a relatively recent phenomenon but do not have longer term data to fully quantify that," said National Geographic explorers Baker Perry and Tom Matthews who were part of the National Geographic and Rolex Perpetual Planet Expeditions that installed the station.
The changes in precipitation are evident on the mountains of the Himalayan state of Uttarakhand, says Bikram Singh, head of the regional weather office.
"We can definitely say snowfall frequency has decreased and this is usually at elevations below 6,000m. During monsoon, the lower elevations receive heavy rainfall."
The dwindling snowfall and increased rainfall mean that the nature of rivers in the region has changed, says Professor JS Rawat, former head of Kumaun University's geography department.
"There are now lots of flash floods after extreme rainfall and rivers that were once glacier-fed in the region have now turned into rain-fed [water bodies]."
Rising temperatures have added to the problem as they have accelerated the melting of Himalayan glaciers. This leads to rapid filling up of glacial lakes that then become prone to overflowing and causing floods. The thinning of glaciers also destabilises mountain slopes.
The Himalayas are estimated to be warming at three times the rate of the global average - and several studies have projected this will lead to substantive increase in rainfall there.
Locals in the states of Uttarakhand and Himachal Pradesh say they have noticed that the frequency and intensity of landslides and floods during the monsoon season have increased.
"Our village Ganai was already threatened by landslides because of increased rainfall on the mountains, so we had to abandon it and move," says Prabhakar Bhatta, 25, a resident of Mayapur village in Uttarakhand's Chamoli district. "But even here we have become homeless."
On 14 August, a little before midnight, a huge flash flood hit Mr Bhatta's two-storey house, burying it under debris of rock, silt and mud.
"We managed to survive because we were warned by people in villages at higher elevations that it was raining very heavily and there could be a flash flood coming our way," he says.
Mr Bhatta says his family stayed up that night and fled when they heard "odd sounds".
"My father built the house with his lifetime savings, and now that too is gone," he says. "This region is becoming unliveable."
Experts say that rampant development of infrastructure like road, tunnels and hydropower projects in the ecologically sensitive region also leads to these disasters. Located in a seismic zone as the Himalayas are, they are subject to earthquakes which make matters worse.
The impact of increased rainfall is also visible across the Indian border.
In northern Pakistan, where the Himalayas meet Karakoram and Hindukush mountains, debris flows and flash floods have become increasingly common, officials say.
There were 120 flash floods in the region's Gilgit Baltistan area during the last monsoon - a huge jump from 10-20 years ago, says Kamal Qamar, director general of the regional disaster management authority.
"It's raining in high altitudes at around 4,000m both in summer and winter, when it should have snowed," he says.
In the eastern Himalayas in Nepal, flash floods and debris flows are destroying vital infrastructure like hydropower and drinking water plants, apart from local settlements, roads and bridges.
According to the country's Independent Power Producers Association, 30 hydropower plants have been damaged in eastern Nepal this monsoon.
Experts say cascading events on Himalayan regions' mountains are also becoming frequent and intense.
That's when an event triggers something else further downstream, says Jakob Steiner, a researcher with the International Centre for Integrated Mountain Development, based in Kathmandu.
"And higher rainfall intensity is often the start or a sub-trigger in these chains."