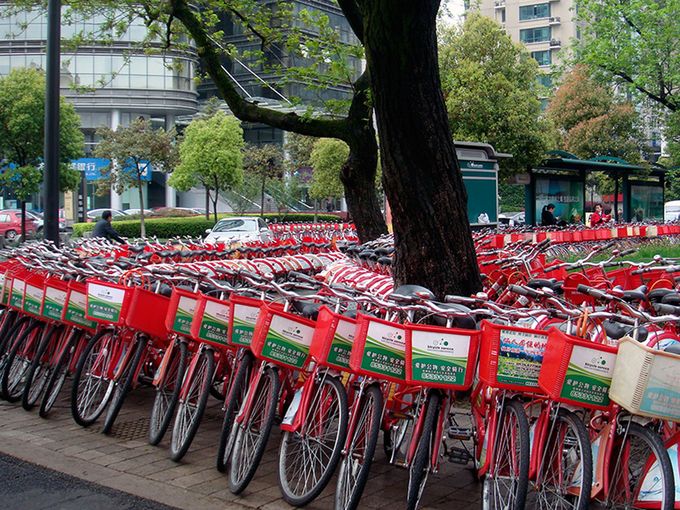 When Citi Bike rolled onto the streets of New York this Memorial Day, it was treated as a national event and even international media took notice.
In advance of the launch, one blog post on Le Monde's website crowed, "Vélib' to conquer America." (Vélib' is Paris's iconic bike share.)
The United States may be a little late to the game, but the business of European-style bike sharing isn't that old to begin with. In a 2003 paper for Transportation Quarterly, bike share expert Paul DeMaio, then a transportation planner for Alexandria, Va., identified three generations of public-use bike schemes, going back to 1968 in Amsterdam with the use of free so-called "White Bikes." (That program collapsed within days.)
The next major development was in Copenhagen, which introduced a coin-operated system in 1995 called Bycyklen, or "City Bike." For 17 years, these bikes zipped through the streets of Denmark's capital until the program was shut down late last year—it's getting an upgrade to third generation technology.
Sponsored by media giant Clear Channel, the French city of Rennes brought the next generation of bike share gadgetry to the world in 1998 by replacing coin operation with card access and electronic kiosks. From there the technology has progressed, picking up GPS and real-time tracking along the way, and has spread throughout Western Europe—and the world.
According to the Bike Sharing World Map, maintained by DeMaio and Russell Meddin of Bike Share Philadelphia, there are 553 bike share programs in operation worldwide and another 193 in planning or under construction.
And they're not just in Europe and North America.
The worldwide leader in bike sharing, as measured by the number of bikes, is China. According to data collected by the Earth Policy Institute, 20 of the 25 largest bike share programs are Chinese. Its largest one, in the city of Wuhan, has twice the number of bikes as all of France's shares combined.
Although most of the systems share several characteristics—bikes with low theft value, electronic docking stations, tiered payment scales—different cities are trying different ways to make bike sharing work.
With an eye towards highlighting the range and scale of the modern bike share boom, we picked 16 of the world's standout programs and decided to see how they stack up against each other.
The most important factor in our rankings wasn't the size of a program per se, but its size measured against the city's population. For example, Mexico City's 4,000 bikes may give it the third largest system in North America, but that's in a city of 8.9 million—over 2,000 people per bike!
This ratio becomes a stand-in(临时替代者,顶替者) for variables that are harder to quantify: How "open" is the system to all who might want to use it, and how integral is it to the life of the city (or country, as the case may be)?
We also considered four other categories: affordability, popularity, functionality/convenience, and the city's bike friendliness. We handily rolled those into a score—giving special weight to people per bike—and ended up with some unexpected results. Take a look!
1. Hangzhou, China
Launched: 2008
Size: 2,965 stations / 69,750 bikes
Price: $32.61 deposit + time charge
Take a look at this city of 6.2 million near Shanghai, and you'll see what just may be the best bike share in the world. Although now second on the planet (and China) by size, the Hangzhou Public Bicycle system is one of the densest shares, and probably the most extensively used one, anywhere, largely because of its integration into public transit: a single card grants access to subway, bus, ferry, taxi and bike share. Residents and tourists alike can put down a deposit of 200 Chinese Yuan (about $33) and ride for an hour for free in this scenic city on the Yangtze Delta. Each additional hour is the equivalent of only $0.15—one reason why riders put in a quarter-million rides a day. It was also the first new-generation bike share in China and is poised to once again become the world's biggest. By 2020 it's projected to have 175,000 bikes.
2. Paris
Launched: 2007
Size: 1,751 stations / 23,900 bikes
Price: $38.52 per year / $2.26 per day
Paris's Vélib' is the star of the bike share world. Launched Bastille Day weekend in 2007, it was the most ambitious program of its kind at the time and still remains the world's largest outside of China. Cheap by American standards, you can zip around Paris on a €1.70 day pass—the first half hour of each trip is free. Because Vélib's network blankets the entire city with an average of 50 stations per square mile, it's a favorite of both locals and tourists, to the tune of 110,000 trips a day. This is what we mean by "integral to the life of the city."
3. Wuhan, China
Launched: 2009
Size: 1,318 stations / approx. 90,000 bikes (as of April, 2012)
Price: free
While Europe gets most of the credit for bringing bike sharing into the 21st century, China is the world leader—at least by the numbers. This central Chinese city of 6.4 million has the world's largest bike share scheme by a sight: if official figures are to be believed, it has roughly twice the number of bikes as all of France's shares combined, according to data collected by the Earth Policy Institute. And not only are there more than enough bikes to go around for its residents only bike share—it has the lowest resident-to-bike ratio on our list—it's free.
4. Changwon, South Korea
Launched: 2010
Size: 230 stations / 4,600 bikes
Price: $8 per year / $1 per day
China's not the only Asian country with the bike share bug. This South Korean city rolled out its NUBIJA program—short for Nearby Useful Bike, Interesting Joyful Attraction—as part of an initiative to be one of South Korea's greenest cities. Residents have taken to NUBIJA and the city's color-coded bike lanes in droves, and the system's about to get even more high-tech: Changwon plans to add smartphone chargers to the bikes so riders' pedal strokes can do double duty. NUBIJA is also one step away from free: about $18 for an annual subscription and less than a dollar for a day pass—and the first two hours of riding cost nothing.
5. Lyon, France
Launched: 2005
Size: 345 stations / approx. 4,000 bikes
Price: $33.20 per year / $1.99 per day
Before Paris rolled out its world-famous share in 2007, France's second city, Lyon, set the stage with Vélo'v, the first truly modern system with smart cards, GPS tracking and high-tech kiosks. It followed a price structure introduced by the city of Rennes, which pioneered a smaller, less advanced system in 1998: the first 30 minutes are free for everyone, and subscribers pay reduced rates for half-hour increments thereafter. Lyon's success with this ad-supported system heralded the explosive growth of urban bike sharing and became a model for other European cities. To this day it is also one of the continent's most well-used, best-run systems.
6. Barcelona
Launched: 2007
Size: 420 stations / 6,000 bikes
Price: $61.93 per year
Barcelona's Bicing program vaulted Spain into the bike share business in a big way. This coastal Catalan city's program took off like wildfire on wheels, quadrupling in size in one year and inspiring copycat schemes all over the country. Today, Spain has 132 bike shares, the most in the world. While it's one of the world's most respected and popular shares, Bicing is only open to residents—tourists are strictly prohibited—and it doesn't have short-term subscriptions.
7. Montreal
Launched: 2009
Size: 450 stations / 5,120 bikes
Price: $81.02 per year / $6.87 per day
Montreal's seasonal Bixi network may sound puny next to the big ones in China and Paris, but prior to Citi Bike's debut, it was the largest in North America—and also the first to gain traction. Bixi's modular technology proved to be such a hit that it's now used in Boston, London, Washington, D.C. and, yes, New York. The best share on the continent (okay, among the ones we ranked), Bixi is only held back by not covering more than a small portion of this beautiful, bike-loving city.
8. Tel Aviv
Launched: 2011
Size: 171 stations / approx. 2,000 bikes
Price: $77.27 per year / $4.69 per day
Maybe it's the agreeable Mediterranean weather and urban seaside cool of Tel Aviv that made it the location of the Middle East's first, and largest, major bike share, Tel-O-Fun. According to first-year stats released by Tel-O-Fun's parent company, FSM, this Israeli city's experiment has been successful in two ways: on weekdays commuters use the bikes to beat downtown traffic, and on weekends tourists use them to explore Tel Aviv-Yafo's famous boardwalk—now with bike lanes.
9. Brussels
Launched: 2009
Size: 305 stations / 3,700 bikes
Price: $42.65 per year / $2.13 per day
You'd think the success of a public bike program would be a given in this semi-official capital of the E.U., but the first attempt, called Cyclocity, was a flop because it had too few stations and lacked public input. Enter the online activist. Rebooted as Villo! In 2009, the new share now has a public watchdog, the citizen-run website Where's My Villo?, which tracks data on bike and docking availability, and has successfully pressured the operator, the advertising firm JCDecaux, to continuously improve the system. This hilly city's share understandably sees lower ridership than its French cousins, but Villo! is testing out a solution: extra free time for uphill trips.
10. Warsaw
Launched: 2012
Size: 125 stations / 2,500 bikes
Price: $3.13 initial fee + extra time after 20 minutes
Last year Poland's capital propelled Eastern Europe into the bike sharing big leagues with the introduction of Veturilo. Unlike many other bike shares, there's no tiered membership system, and a one-time fee, equivalent to about $3, grants anyone access to the low-cost system—after sign-up, the first two hours cost just over one U.S. dollar, allowing tourists to explore this historic city on the cheap and locals to use Veturilo bikes for recreation. Compared to other large bike shares, though, Veturilo is not terribly well used, likely due to Warsaw's relative lack of bike culture and its fledgling, but not yet built-up, cycling infrastructure.
11. Washington, D.C. & Northern Virginia
Launched: 2010
Size: 231 stations / 1,850 bikes
Price: $75 per year
Capital Bikeshare in the D.C. metro area wasn't the nation's first successful go at a modern Euro-style system—Denver and Minneapolis beat it to the punch by a few months—but it has been something of a test case for a bike-wary U.S. (D.C.'s earlier share, SmartBike DC, was North America's first failed attempt.) With stations across state lines in Washington proper and Alexandria and Arlington, Virginia, Capital Bikeshare proved that such a system could work here. Users have logged millions of miles, and the network will soon expand into Maryland. What it lacks—typical of the bottom of this list—is citywide-ness, and also the low prices you see in Europe and Asia.
12. Buenos Aires
Launched: 2010
Size: 28 stations / approx. 1,000 bikes
Price: $3.76 per month
Buenos Aires was the first major South American city to try its luck with bike sharing, and has since been joined by Santiago, Chile, and Rio de Janeiro and São Paulo, Brazil. Until recently named Mejor en Bici—or "Better by Bike"—this government program is part of a larger initiative by the same name to build a cycling infrastructure in the Argentine capital. (The government just renamed it Ecobici, no relation to Mexico City's share.) The cool twist here? Although the hours aren't as generous as other programs—8 a.m. to 8 p.m. on weekdays and limited hours on weekends—the program is completely free to residents, and rentals, if you call them that, are for an hour. And it's about to get a major overhaul: the city is expanding Ecobici to 200 stations and making it 24/7 at no extra cost to riders.