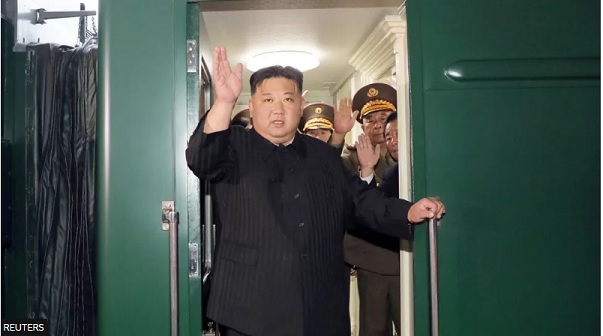 North Korea's leader Kim Jong Un has crossed the border into Russia for a meeting with President Vladimir Putin.
They are likely to discuss an arms deal as Russia faces a Ukrainian counter offensive, a US official said.
South Korea's defence ministry confirmed that Mr Kim's armoured train entered Russia early on Tuesday morning.
It is now moving towards Vladivostok, where Russia is hosting the Eastern economic forum.
That journey is expected to take another five to six hours.
The meeting between the two leaders could take place as early as Tuesday local time - although the statement from the Kremlin said it would happen in "coming days."
Mr Kim is accompanied by senior government officials, including military personnel, KCNA reported.
Photos shared by state media showed Mr Kim waving from his armoured train before departing Pyongyang.
High on the meeting's agenda is the possibility of North Korea providing Moscow with weapons to support its war in Ukraine, a US official earlier told CBS, the BBC's partner in the US.
Mr Kim's last trip abroad was also to Vladivostok in 2019 for a summit with Mr Putin after the collapse of North Korea's nuclear disarmament talks with then US President Donald Trump.
His train is rumoured to include at least 20 bulletproof cars, making it heavier than average trains. It's weight also means the train is very slow - it can only travel at around 59 km/h (37mph).
The White House has said it has new information that arms negotiations between the Russia and North Korea are "actively advancing".