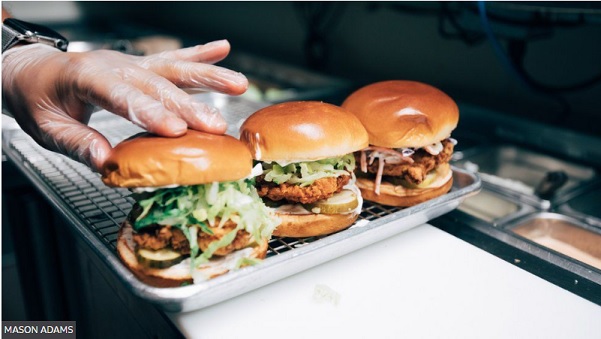 Husband and wife, Emre Uzundag and Yonca Cubuk, say they are now "living their small dream", all thanks to a food delivery app.
The Turkish couple moved to New York in 2020, and due to coronavirus they found themselves stuck in their small apartment in Brooklyn.
Homesick, they started to cook more and more Turkish food, to help them cope with the stresses of lockdown. "Which was a mental necessity during the pandemic," says Ms Cubuk.
They then moved on to cooking meals for friends around the city, and Ms Cubuk says the feedback was incredibly positive.
"They started to tell us that we should turn it into a career."
Despite neither of the pair having worked as a professional chef before, last year they decided to take the plunge, and signed their business up to a new food delivery app called Woodspoon.
While the huge market-leading delivery apps, such as Just Eat, Deliveroo, Uber Eats and DoorDash (the biggest in the US) now list many large restaurant chains, Woodspoon's business model is entirely different.
It was launched at the start of 2020 to link home cooks - people literally cooking from the kitchen in their house or apartment - to customers who want a fresh, homemade takeaway, rather than something from a chain restaurant.
You order via the Woodspoon app, which sends the details to the relevant home chef. Then, when the food has been cooked, it is picked up and delivered by a Woodspoon driver.
Although still only available in the Brooklyn borough of New York, with more than 120 cooks currently on its books, the plan is to expand.
Emre Uzundag and Yonca Cubuk's BanBan Anatolian Home Cooking is now available via the app four days a week, while on the other three days they work on new recipes. Ms Cubik says that they are so busy that they recently had to work on their fourth wedding anniversary.
Yet, thanks to Woodspoon, they don't have to go to the expense of renting a commercial premise.
"Woodspoon gives us a platform and a voice to tell our story," she adds. "And we are more than just kebabs and pilaf [a rice dish]... our best-selling dishes are the lentil soup and the orange spinach stew, both are vegetarian, the latter one is vegan."