Britney Spears: No Longer A Girl, Finally A Woman?
On the eve of her 27th birthday, Britney aims to put the tabloid past behind her in a new MTV documentary.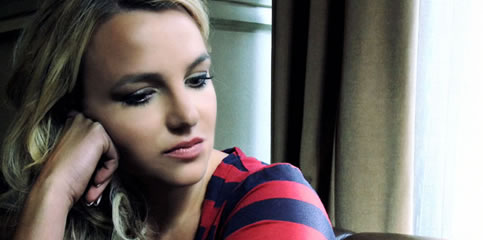 Britney Spears: For The Record Comes to MTV
Her MTV documentary aims to put the tabloid past behind her.
Charlie Toft, Nov 27, 2008

America loves a good comeback story, so it must really love Britney Spears, who despite being only 27 years old (as of next week) has been in comeback mode longer than she was famous to begin with.

But there is one big indication that the current career revival might just take: Britney is now making news only when she really wants to, and can advance her commercial interests by doing so. This stands in contrast to 2007, which began with her shaving her head in the wake of a second baby and a breakup with husband Kevin Federline, ended with America laughing at her comatose baby elephant walk at the VMAs and dismissing her unfortunately titled CD Blackout, and had a whole lot of addled antics in between.

Her last major bout of bad publicity came at the start of 2008, when she was hospitalized after failing to turn over her sons to Federline as required. Her father Jamie was put in control of the singer's affairs, and that put an end (mostly) to the tabloidy behavior. Spears showed up on How I Met Your Mother in the spring and attracted decent notices. She got back in the recording studio, and the first single from that effort, "Womanizer," is her most successful in years.

The rollout of the upcoming Circus CD comes at the right time, coinciding with Britney's birthday and the start of the Christmas shopping season. The biggest step in the process comes on Sunday with the MTV documentary Britney: For the Record, which airs at 10 PM. The special is getting attention usually befitting an awards show, with both a one-hour preview and a brief recap where the awesomeness of what just happened will be recounted.

MTV has been a co-conspirator in the Spears saga all along. The channel was her biggest booster when she appeared on the scene as a teen sex kitten, and MTV has typically been the medium for the introduction of her Madonna-like image shifts (dancing with a snake, giving an open-mouthed kiss to the Material Girl herself). After the catastrophic 2007 VMAs, where Britney had seemingly lost the ability to lip sync or even shuffle convincingly, she was invited back this year for a brief non-performing segment.

Not only did that appearance go well, showing the public that Britney was cleaned up and apparently in her right mind again, but she ended up as the night's big winner on the strength of the video for "Piece of Me." Did MTV ensure Britney victories in order to build the momentum for a comeback? Possibly, although no one really seemed to mind. She appeared modest and genuinely grateful for her big night, reminding people why they liked her in the first place.

Britney: For the Record is very much a product of the singer's campaign to bury her insane phase for good and reinvent herself as a more mature version of the fun teen we once knew. Of course, this isn't Michael Moore following her around--the Spears camp is in control, and we will see what they want us to see. The new approach, showing Britney as reflective and serious about her career, is a huge shift from the 2005 reality show Chaotic, which chronicled the early days of her relationship with Federline, a time when Britney was working less and seemed to be trying way too hard to shed her old virginal image.

In the documentary, Britney deals with the aspect of her recent past that is probably the biggest drawback to being fully embraced by the public again: relinquishing primary custody of her children. After all, losing a PR battle to Kevin Federline is not the easiest thing to accomplish. She is also seen to be chafing against the restrictions imposed by her father, effective though they may seem to outside observers. Having lived her life in front of the cameras for ten years, the more sedate pace of 2008 has been hard for Spears to deal with.

Britney's talent and sincerity might be questioned, but she has one thing going for her: people seem to really want her to succeed. And this new spurt of activity is keeping her occupied, giving her less time to gallivant around Hollywood in a pink wig. The paparazzis' loss might be MTV's gain.